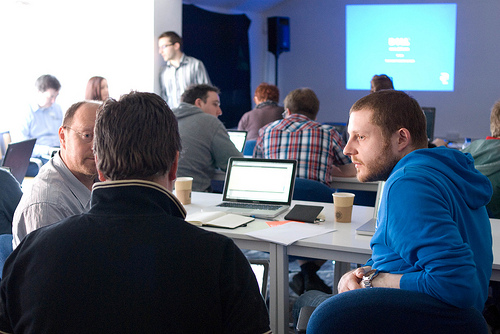 Policy Radio | Special Edition: Derek Eder, Juan Pablo Velez, and OpenGov Hackers on Open Data and Civic-Minded Applications
Podcast: Play in new window | Download
Derek Eder is the co-founder of Open City, a collective that makes civic apps with open data, and organizer for OpenGov Chicago, a monthly Meetup group that promotes open data and open government in Chicago and Cook County. He is also the owner of DataMade, LLC, an open government and open data web consulting company.
Juan Pablo Velez is a civic technologist with Open City and organizes Chicago's OpenGov hack night. He was previously a journalist for the Chicago News Cooperative.
This week, Julie Cooper ventures out to OpenGov Hack Night for a special edition of Chicago Policy Radio. She talks to Derek Eder and Juan Pablo Velez of Open City, as well as other participants at their monthly meetup to talk about open data, how data can change policy, and ways for anyone to get involved in using data to improve governance.
Special thanks to Open City, John Owens, Nicholas Mader, Emily Rosengren, Tom Kompare, Elnaz Moshfeghian, and Young Jin Kim.
This podcast was produced by Julie Cooper.
Feature photo: cc/MadLabUK