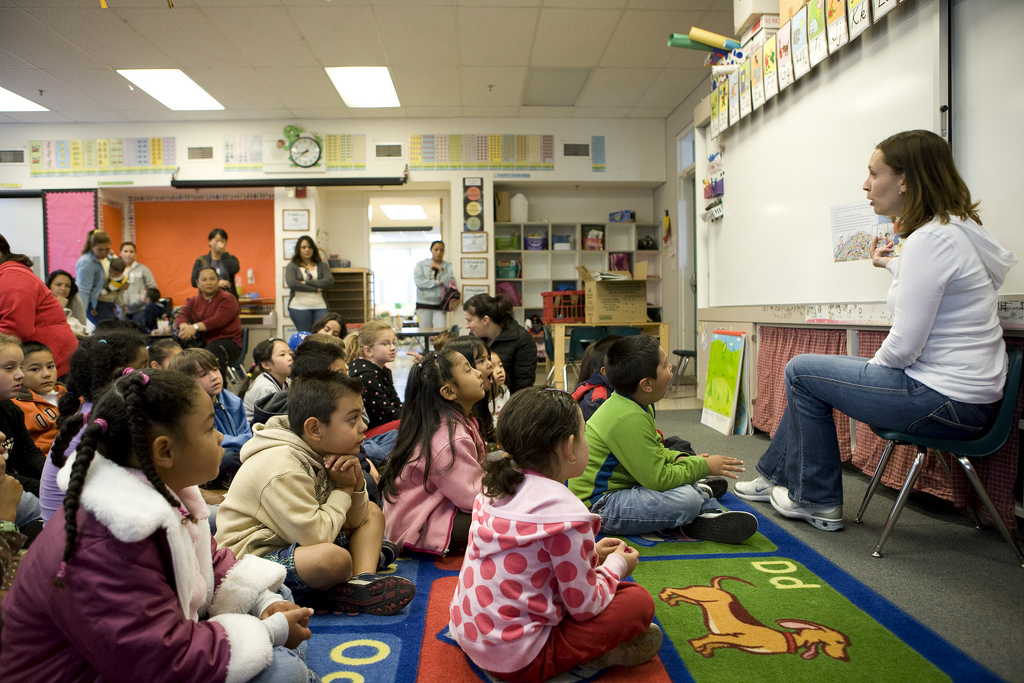 A Window of Opportunity: Yasmina Vinci Discusses the Past 50 Years of Head Start
Given that Head Start is celebrating its fiftieth anniversary this year, what do you think the program's greatest accomplishments have been?
I think one of the greatest accomplishments has been the program's way of being the window of opportunity for so many people to live productive lives in the community. And, from what we know, alums are in all walks of life and are contributing members to society. The President is talking about the middle class but also about the bridge into the middle class, and I think Head Start in many cases can claim that's what it is.
The second thing is getting many people into the education profession. There are people at all levels of education, from classroom teachers to principals to superintendents. There are two women in particular: one is the superintendent of education for all of Montana, and another one is a commissioner of education in Michigan.
What it has also done is inspire many women to go to get their degrees. Quite a number of people, who are now both working in Head Start and leading the Head Start conversation, started as parents. And, sometimes, it really is a spectacular progression. Sometimes, a parent did not even have a high school degree, and now he or she may have one or two master's degrees. We have a person in Chicago who has a doctorate and is the leader of a program there. She started as a parent who did not even speak enough English to proceed with her education. So Head Start has been a great escalator out of poverty. It has also given people their love of learning – that educational curiosity and motivation.
What do you think some of the biggest obstacles have been, and what has the NHSA learned over the past 50 years in terms of building support for the program?
One obstacle is people who really do not want for some other people to be educated. Head Start has its roots where there was opposition. People actually went and tried to shoot people in Head Start centers. People fired their maids, who were Head Start moms, because they sent their kids to the program. So the biggest obstacle is just the sense that we shouldn't allow some people to be having that way out of poverty or unequal status.
That's why we have the type of funding we have now, the federal-to-local funding. It was done because it was clear that, in giving the states that money, in many places it would never serve its purpose of providing equal opportunities and good education for low-income kids or African American kids or Hispanic kids. So the federal-to-local funding, which we still support, is now a very controversial thing because some people are saying we should give states the money so that they can build systems that are seamless. States have, and always have had, different funding streams and have had to coordinate them, so giving states this money, we think, would not accomplish any greater degree of coordination. We're all for really good access to high-quality early learning for all kids, but in that drive to universality, we would like to not lose the most vulnerable kids.
Looking forward to the next 50 years for Head Start, what role do you see NHSA playing?
I have been so fortunate to be able to look at Head Start close up and experience it by visiting many programs and seeing many people. There's an enormous amount of knowledge and wisdom among Head Start programs, and there's a lot of innovation.
People say Head Start is an old program and ask why we don't do something new. But there's a lot of local innovation. It's funny because I've been talking to people, thinking it's so smart how one person is doing this and how another person is doing that. We have all these standards we have to meet, yet all the families are so different and have different needs. So, innovation being the mother of necessity, I think there's innovative stuff going on in one program, and we assume that the people in another program are doing the same thing.
So, what we are hoping for NHSA is to be able to connect people and have a lot of peer learning. People love our learning communities, and, of course, with technology, those are easier and easier to manage. But we also do meet ups whenever possible, in addition to ongoing learning communities to which we contribute external resources. We love to have people learn from each other. And, hopefully, later with partnerships, those can expand across the early learning spectrum.
What is one thing about Head Start you would like to see change or evolve?
I have lived long enough to know that organizations and movements and brands that don't adapt and change as the world changes are sort of doomed. So there's not one major change that's needed; I think we need continuing adaptation. We want to be flexible.
One thing is to have more local flexibility in shaping the program. In other words, we say yes to having standards, monitoring, and all these great elements of being effective. But we also need to have more local flexibility so that, with the input of the communities, the programs can serve the families at that point in time the way they need to be served. We would like to be thought of as a birth-to-five continuous program. Then, if all the four-year-olds are in state-funded programs, we can serve more threes and twos and ones, as well as pregnant women. But those things are flexible community by community, so the program models should not be rigid.
We, for many reasons, remain strong supporters of community problem solving. With community agencies, whether they're non-profits or city government, we really like the idea that these families and decision-makers in the community are figuring out what's best for Head Start services together.
Featured Image: cc/(soulmango)