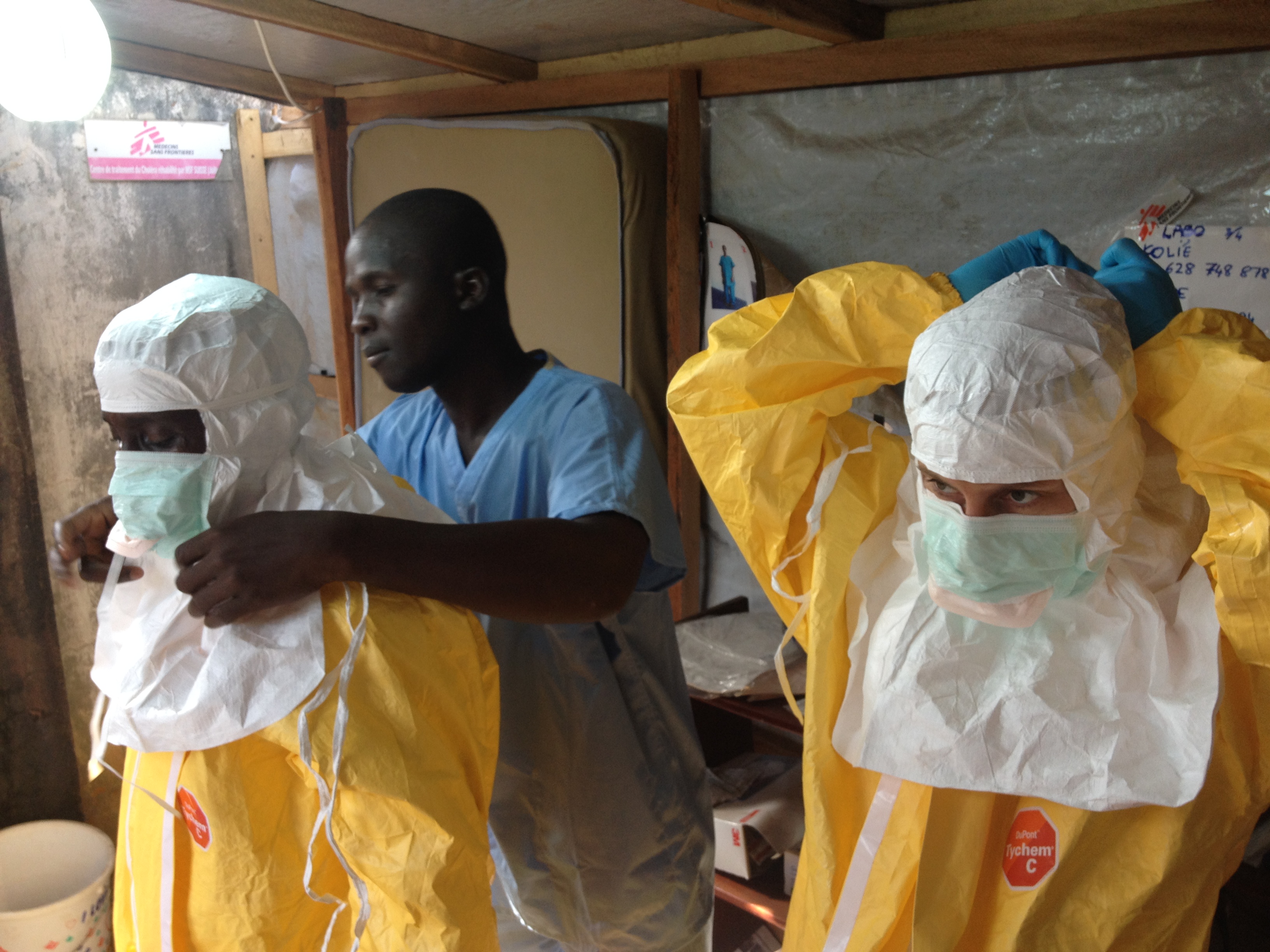 Ebola's Devastation: On the Ground in Liberia
Nina Goricar is an aid worker who has been operating in post-conflict countries for over seven years. She spent five years in the public health sector in Burundi and over two years working in Liberia addressing issues such as governance and civil society building. Ms. Goricar is also currently engaged in social mobilization and the sanitation aspect of Ebola response. She holds a BA in Development Studies from the University of South Africa (UNISA) and is currently pursuing an MSc in Natural Resources Management from the University of London School of Oriental and African Studies. 
In the past few days we heard news reports that residents of Monrovia are being forcibly pushed back into the quarantine area when they try to escape. Are these human rights abuses or legitimate public health measures?
Due to the lack of early response, the current situation necessitates drastic measures to bring the outbreak under control. The situation is dire and certain civic rights will have to be curtailed to ensure that there are no loose ends that will compromise containment efforts. Quarantining whole areas is a radical measure, but it indicates the magnitude of the crisis. The existing figures of Ebola cases are significantly underestimated and it is believed that the figures reported represent just 10-40 percent of actual outbreak patients and deaths.
Medical organizations engaged in case management have been raising concerns for some time that there is a high likelihood that West Point slum, the area of Monrovia that has been placed under the quarantine, is infected. They have been mapping the residential backgrounds of Ebola patients and this was the only area in Monrovia that seemed unaffected according to the patient data. This was perceived as highly unlikely, since the population in the West Point slum is amongst the poorest in Monrovia and therefore most vulnerable to the risk of infection. The opening of the isolation unit in the area has proven that the rate of infection is indeed high. This is problematic because the living conditions and virtual absence of sanitation infrastructure and facilities create an environment in which Ebola transmission can rapidly progress.
As this outbreak is unparalleled and few people here have experience dealing with such complex public health crises, the worst decision at this time would be to not make any decision at all.
How effectual do you think the mainstream media has been in directing resources to where they're needed? 
The mainstream media succeeded in creating a global panic, which resulted in further isolation of affected countries as opposed to needed solidarity in times of severe crisis. Moreover, it has damaged the image of the whole continent. Business and leisure travel is being cancelled all over the continent, leading to negative economic impacts in a number of upcoming and thriving economies.
Additionally, the mainstream media has failed to conduct any meaningful analysis of the developing situation and to acknowledge that the situation in Liberia is rapidly evolving into a complex humanitarian crisis in urgent need of multi-faceted assistance.
What has not been getting enough coverage, in your opinion?
The socioeconomic and political dimensions of the crisis have not received any significant attention.
For example, there has been little coverage of the diminishing international transportation facilities, such as suspension of flights by a number of regional and international airlines, the ban on docking of ships from affected countries in regional ports, and the closure of land borders by neighboring countries. The media has not focused much on the consequences these measures have for the country, such as the increased prices and decreased availability of basic commodities like food and the greater socioeconomic consequences this may have on the population and the country.
Furthermore, there has been insignificant reporting of the loss of employment, which is on the rise as countless organizations have suspended operations and left the country.
There has also been little mention of psychological effects of the crisis and the traumatizing experiences endured. Spouses are abandoning Ebola-symptomatic better halves on the streets, deceased loved ones are being incinerated and not given traditionally appropriate burials, people are losing entire families to the virus, and communities are being decimated.
The latent tensions and prior mistrust in state authorities and institutions have surfaced, and there is no misconception of the manifest disillusionment here. The Ebola outbreak has been heavily politicized since the very beginning and numerous actors are taking advantage of the situation to further their own interests. The situation here remains highly uncertain and extremely fragile.
Do you see tension between managing this current catastrophe with other ongoing public health catastrophes like malaria and a lack of basic medical supplies?
There is a lot of tension within the health care system. Right now, most of the efforts within the health sector are focused on Ebola response. People are dying due to the virtual standstill of health care services. Women are dying in childbirth while trying to find working facilities and people are dying of malaria and other treatable illnesses. Many are dying because they are avoiding facilities that are operational due to the fear of contracting Ebola within health care facilities.
Liberia is currently in its rainy season, which is the time of cholera outbreaks. Usually during this period most efforts are geared towards prevention and treatment of cholera. Now, most non-Ebola services have been sidetracked.
Lack of basic medical supplies as well as preparedness is the main reason for high Ebola infection rates amongst the health workers in the first place. The outbreak has overwhelmed the health care sector, which is on the verge of collapse.
How will this outbreak affect the growing civil society and civic institutions in Liberia?  
Much of the civil society has been in the process of increasing its capacities, a process that is likely to be compromised if donors reallocate resources to Ebola response operations. Many civil society actors are still heavily donor-dependent. Should there be a lack of funding flexibility from the donors, the existence of numerous civil society actors may be threatened, particularly those working in sectors such as education that have been put on hold.
Despite this challenging environment, the civil society was able to capitalize on its strengthened capacities and responded with swift mobilization of resources. There has been an extraordinary increase in volunteerism, resulting in massive action with extensive reach.
Is there anything else of which policymakers should be aware?
The crisis in its totality needs urgent attention to avoid further escalation, which would have devastating long-term effects on this fragile state.
Feature Photo: cc/(EU Humanitarian Aid and Civil Protection)